As Halloween is nearly upon us the blogging community is awash with spooky crafts that you clever girls keep coming up with. I can't tell you how many links I've gleefully bookmarked in the past few weeks. The good thing is that because I keep my house decorated like it's Halloween all year round I have the entire year to try them out. No need to cram them all into the two months preceding Halloween. At this point it's just a matter of prioritizing and picking which projects I'm going to tackle first.
Can you believe I've never made a wreath before? I haven't, in fact, used a glue gun for anything since I grew up and moved out of my mom's house and stopped using hers to destroy things. Back then I'm sure I used it mostly for gluing my brother's bedroom door shut or some such mischief, not crafting. Time to renew those rusty skills with a project I was so excited to try. Crafts & Sutch's subtly creepy
spider wreath
first caught my eye a few weeks ago. The Spanish moss on its own gives it a haunting, autumn feel but the addition of little glittery spiders nestled in sold me on it. I already had most of the necessary materials including a $1 wreath I'd gotten at the Dollar Store months ago. Now that I see how easy and fun it is to make your own wreath I'm kicking myself for not buying more when they had them in stock. I can see this becoming an addiction for me with a new wreath showing up on my door every time the season changes. Or my mood. Whichever changes first.
The only thing I didn't have was the spiders. I knew I had to pick just the right ones to achieve that same effect. I've spent the past two weeks searching my local stores for inexpensive but not goofy-looking plastic spiders. You have no idea how difficult it was to find some! Many of the stores didn't get their Halloween stuff out until this past weekend and the only suitable-looking ones I found were at Target for the ridiculously high price of $4. That's more than all of the rest of the materials combined! I finally hit the mother load when I stopped at an out-of-the-way discount store that was in the midst of setting out their Halloween stock. I went a little wild and bought not only spider rings for $1 but lots of other goodies for upcoming projects. Stay tuned for those.
The spiders that should have been mine (Photo from Crafts & Sutch)
The funny part is that I really liked the spiders she used in the tutorial and I'd usually be brave and email the blogger to ask where she got them. This time I figured the answer would be "Hobby Lobby" (which I don't have) or "Target last year" so I didn't bother. For the past week my husband's been suggesting we check Party City for the spiders but they're a little out of the way and their stuff is usually marked up a lot. I assumed if they had any they'd be just as much as the Target ones. Friday night I stayed up late glittering my $1 spider rings. Then the very next day we hit Party City while making our usual Halloween shopping rounds and lo and behold they had the same spiders from the tutorial for only $1. Oh well. I bought them to use at some point in the future but I wasn't about to sit down and glitter those as well. It took me long enough to clean up the mess from my first batch of spiders. Guess it always pays to ask, huh?
The wreath portion was quick and easy to do. Aside from gluing my fingers a few times I did pretty well with my first real hot glue project and was done in under 30 minutes. The best part is that any stray strands of hot glue I may have accidentally left look so much like cobwebs that they're in keeping with the theme. The tricky part came when trying to make my wooden sign. My handwriting is abysmal and my first attempt to print something out from the computer and turn it into a crude stencil only worked insofar as I was able to lay the letters out more or less evenly. After that it still looked like my handwriting. In other words, it looked like a child's art project. A not very talented child. I repainted it with my pretty and cheap purple "oops" paint from Lowe's and started again. Because I enjoy torturing myself, I went with the tedious process of printing out my letters and cutting each one out individually with a pair of scissors and a scalpel. Don't ask why I own one of those. It's just for fun, honest. I used Mod Podge to adhere them in place and filled in any white spaces I'd missed while cutting with a black pen. I'm sure there's an easier way to do this but I'm not smart enough to come up with one. It's not quite as nice as it would have looked if I'd put more effort into those handwriting classes in elementary school but good enough for me. Plus the rest of the kick-ass wreath more than makes up for it!
Anyone up for some free surgical services?
Be sure to check out Craft & Sutch's
helpful tutorial
if you want to recreate the magic yourself and scare the pants off of any girly girls who show up at your door! In fact, I know a few girly guys who would be scared too. You know who you are.
Price list:
Wreath form from Dollar Tree: $1 (duh!)
Large bag of Spanish moss from Jo-Ann (still have some left): $1.50 (w/coupon)
Plastic spider rings from local dollar store: $1
Black glitter from Michaels (lots left over): $1.10 (w/coupon)
Wooden sign from Michaels: $1 (w/coupon)
Jute from Jo-Ann (lots left over): $1.70 (w/coupon)
Paint, glue gun, and Mod Podge on hand
Total: About $7 with lots of leftovers for future projects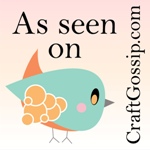 So proud to have been featured at Craft Gossip, one of my favorite sources of crafty inspiration!